25+ years of Strategy Execution Management experience in your pocket
Upgrade your strategy execution management with this easy-to-follow guide.
Fill out the form to get the SEM Guide in your inbox now.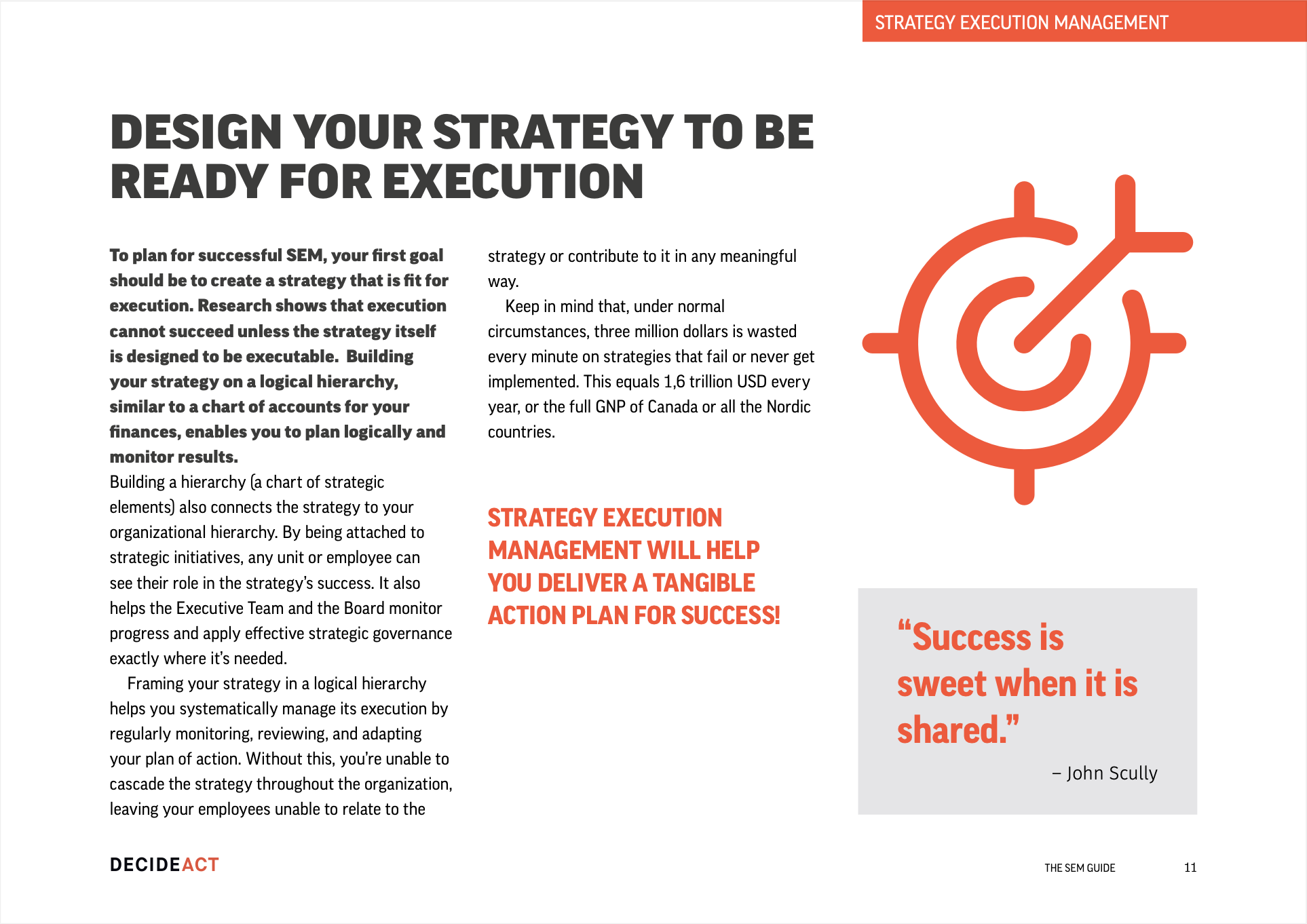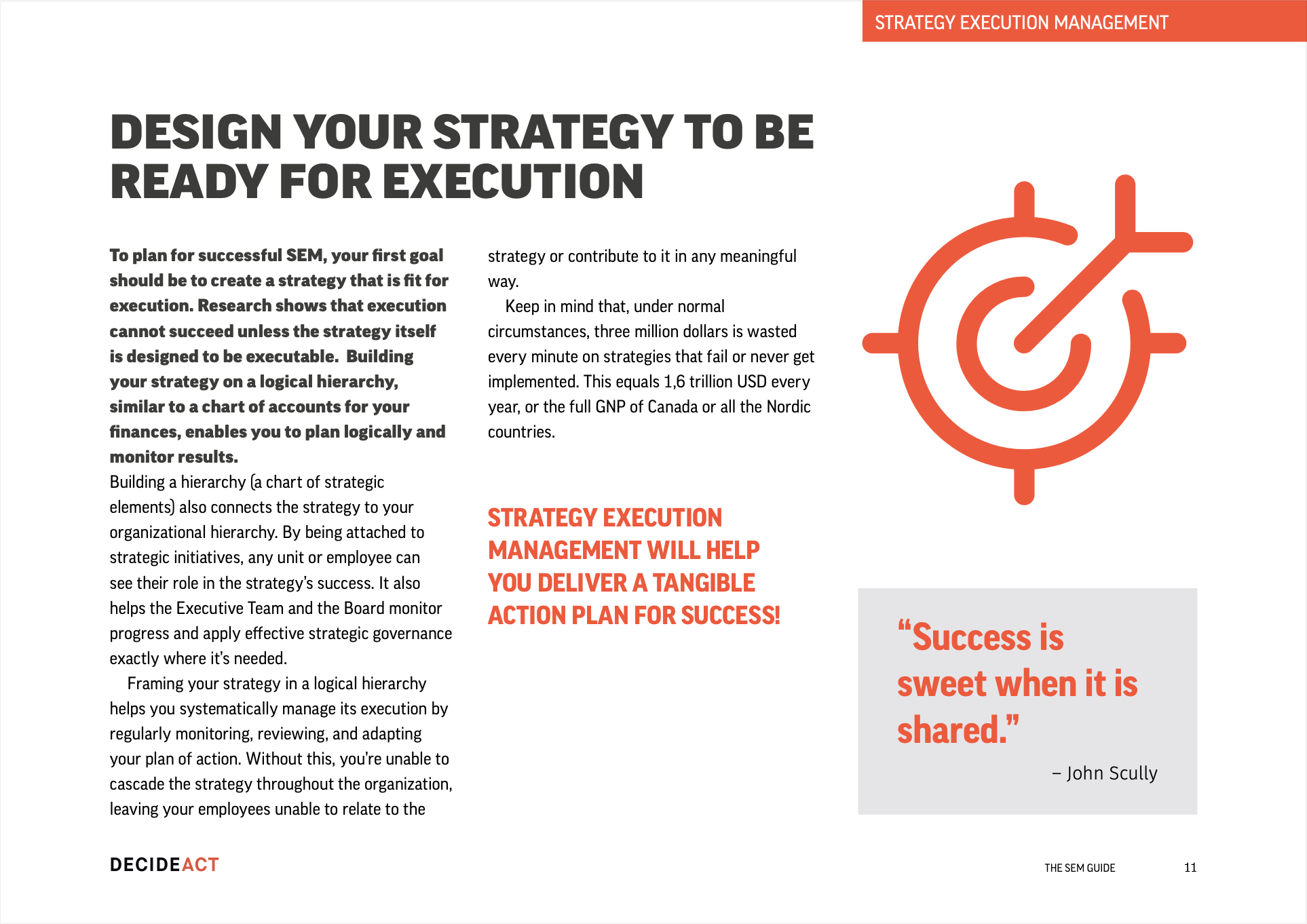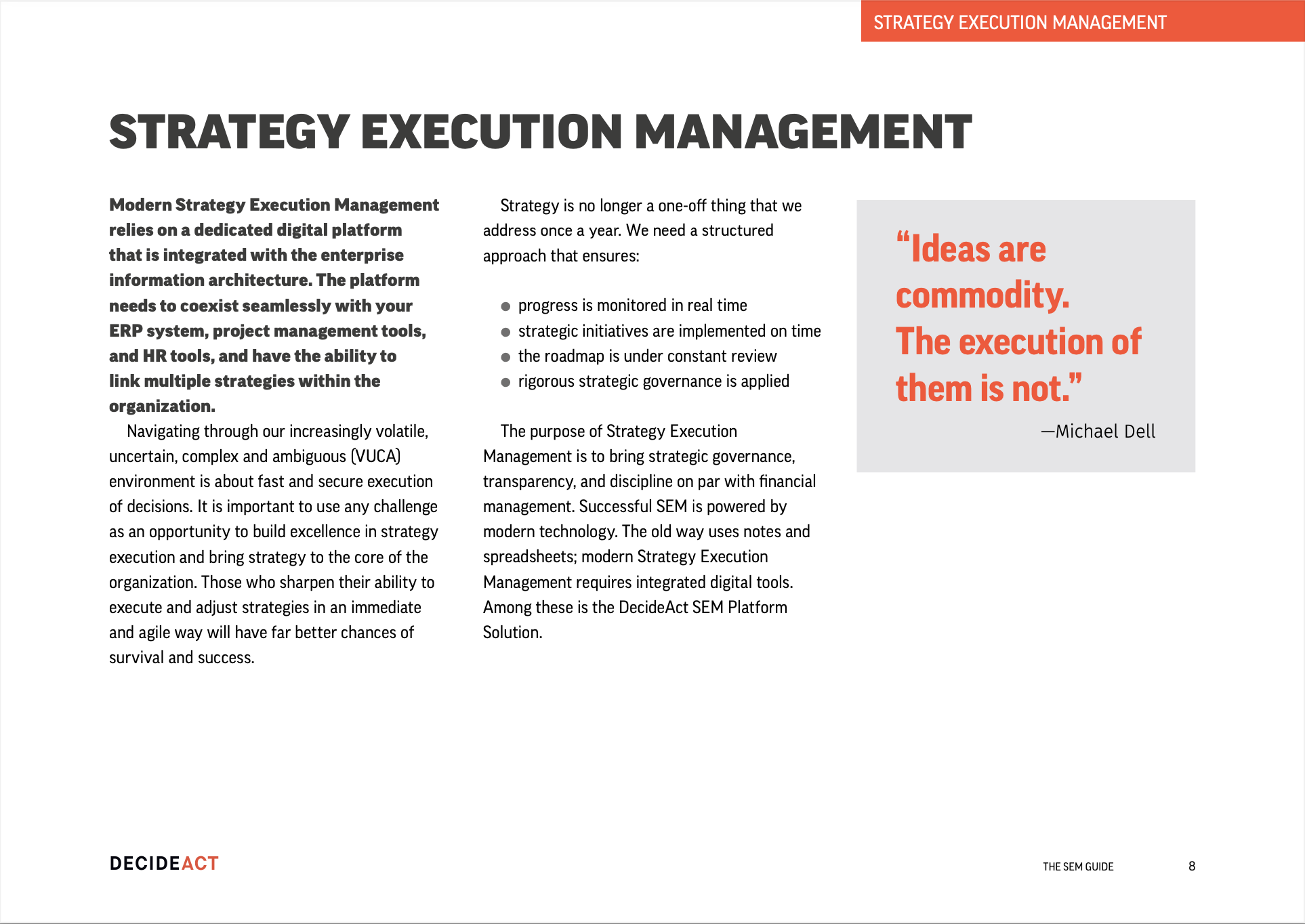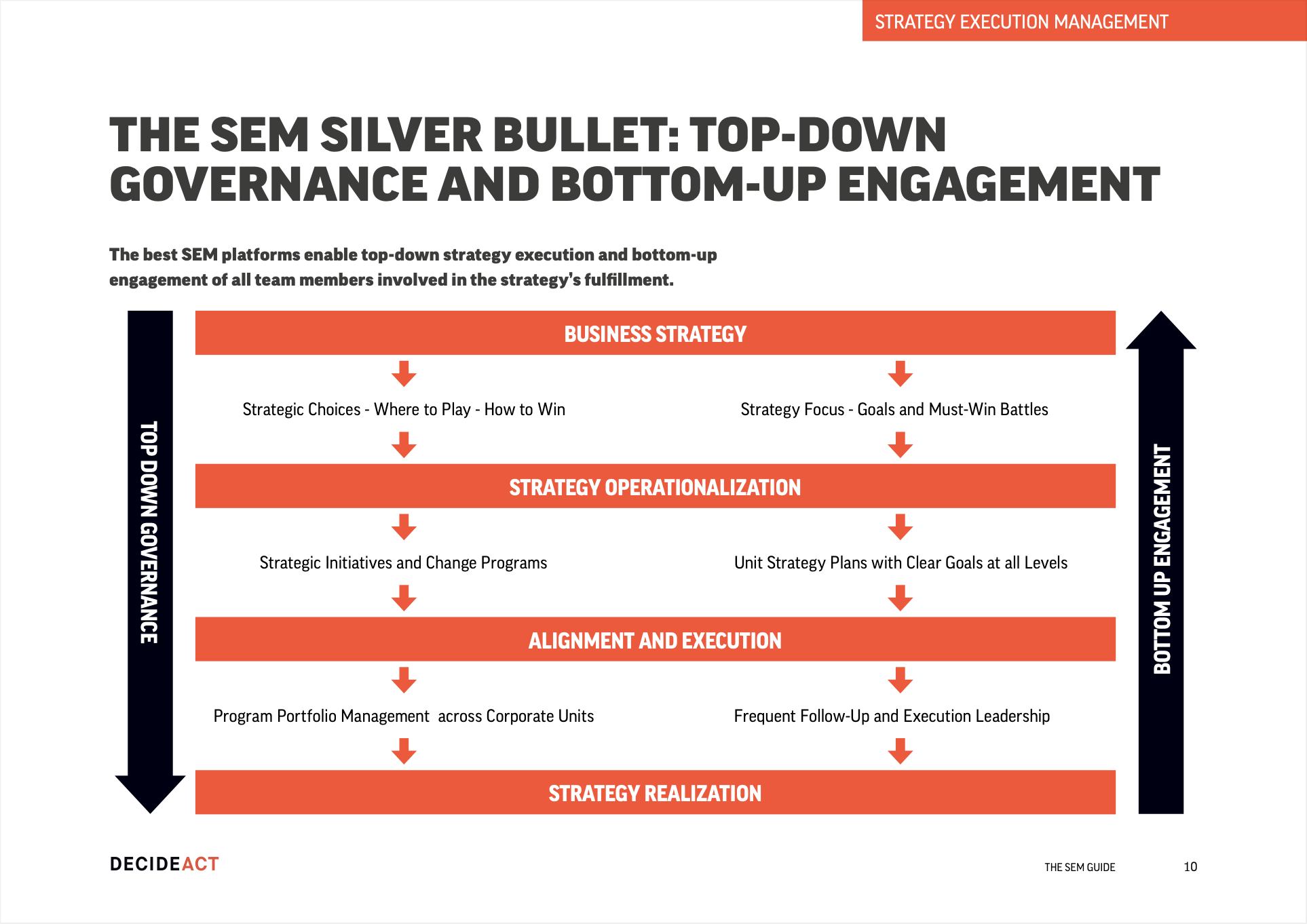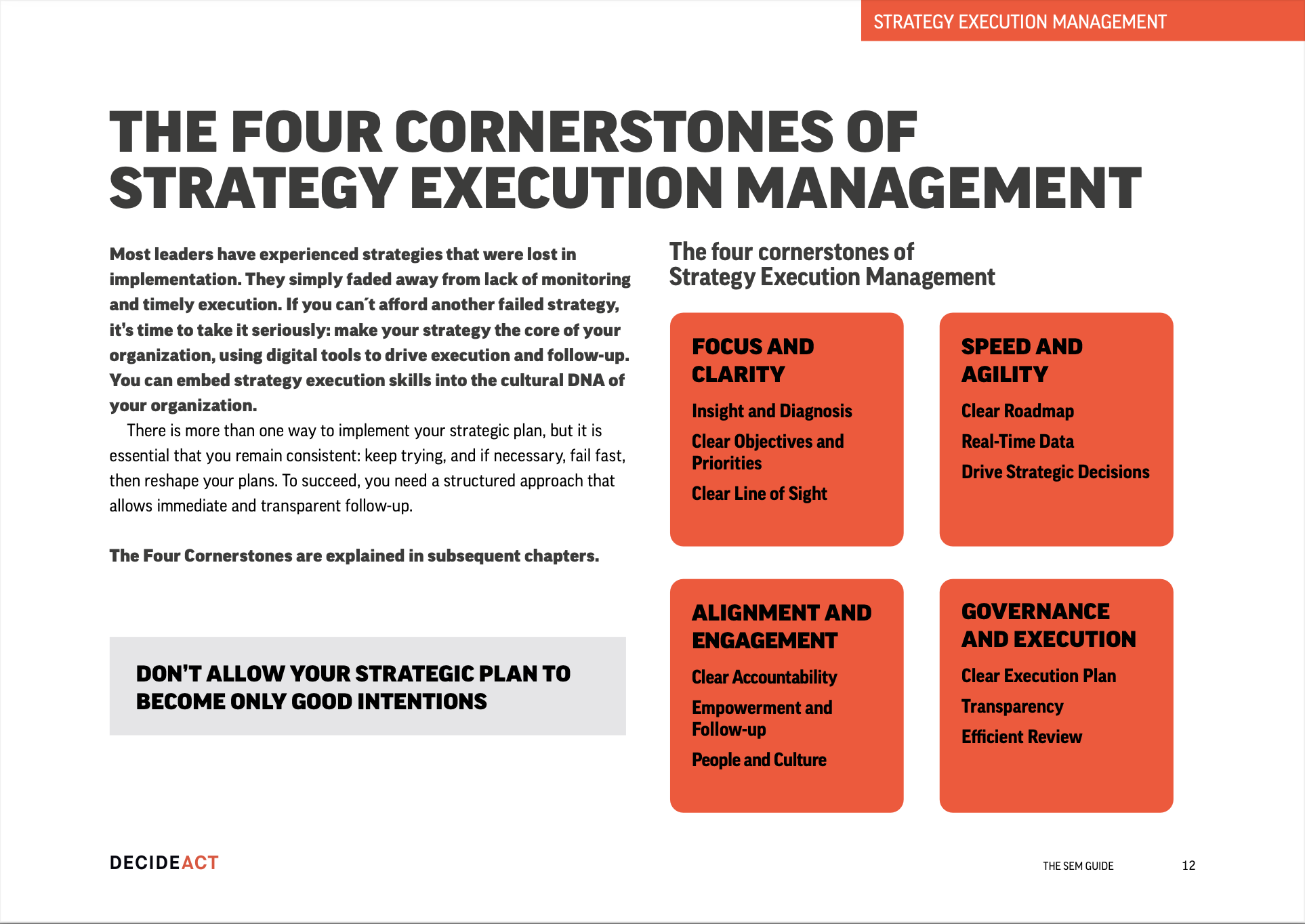 What is Strategy Execution Management (SEM)?
SEM isn't only about optimizing strategy implementation! It's a new industry standard that transforms the way strategy is planned, executed, and followed up on. The Four Cornerstones of modern strategy execution management are:
Focus and Clarity
Insight of diagnosis

Clear objectives and priorities

Clear line of sight

Speed and Agility
Clear roadmap

Real-time data

Drive strategic decisions

Alignment and Communication
Clear accountability

Empowerment and follow-up

People and culture



Focus and Clarity
Clear execution

Transparency

Efficient review
What to expect from the Guide?
The SEM Guide is a complete walk-through of all the steps to be taken from considering a new strategy to its implementation in the organization and the practical execution until it is successfully accomplished. The content is both solidly theoretically grounded as well as tested in the real world, and it is presented here in an easy-to-read and well-structured form that makes it easy to use as a checklist for executing your own strategy.
What is Strategy Execution Management
The SEM Guide explains the infrastructure of a successful implementation in this digital age, one component at a time.
How to approach Strategy Execution Management
The SEM Guide reviews the latest principles for successful strategy implementation point by point, and in a clear and easy-to-understand structure.
How to design an implementation process
The SEM guide gives you a detailed process description with all the elements that need to be in place so that the strategy can be implemented with a digital infrastructure.
How to ensure oversight, follow-up & commitment
The SEM Guide shows you how to establish strategic governance and accountability so your company's strategy is as transparent and measurable as its financials.
How can you engage your team in the process
The SEM Guide explains how you can give your team members a sense of ownership over their role in accomplishing the strategy.
Do you really take your strategy seriously?
Hand on heart, do you really take the management and execution of your strategy as seriously as your financial management? If the answer is no... The SEM Guide will help you rethink the way you have implemented strategies in the past. Your future efforts will have a much higher success rate.
What industry leaders are saying about the guide
"Over the past 15 years, in my work at international cross-border pharmaceutical companies, I have learned that one of my most important tools is strong Strategy Execution Management. This guide provides a good insight into how to do it and a solid suggestion on how to power the process."

Anders Fogstrup
CEO
Mundipharma Germany GmbH
"This guide shows us how to create a connection between strategy and implementation using a simple and effective tool for following up strategic initiatives, goals and measurement points. In addition, the authors draw on their vast knowledge and experience, with which they guide and help establish and lead an action-oriented culture in companies."

Guðrún Erla Jónsdóttir
Chief Strategic Officer
Reykjavik Energy
"Jonsson and Videriksen's guide to managing and executing strategy is valuable and important knowledge for any top manager. It reviews point by point the very central and crucial principles in a way that is easy to relate to. It is a must-read for anyone who wants to adapt to a new business situation and ensure an organization that thrives."

Omar Valdimarsson
CEO
COOP Island
Upgrade your knowledge of strategy execution and governance – download the Guide now!